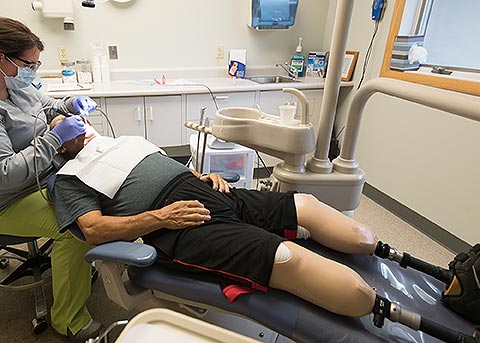 Tooth decay is caused by plaque in your mouth reacting with sugary and starchy deposits from food. This reaction produces acid which damages the enamel over time and weakens the tooth.
You should visit your dentist at least every six months or more frequently to get your teeth cleaned. By seeing your dentist twice a year, your dentist can monitor your oral health and help you prevent any problems that may arise before they became uncomfortable or require more comprehensive or expensive treatment. The dentist may suggest more frequent visits, depending on the diagnosis.
Bad breath, or halitosis, is primarily caused by poor oral hygiene, but can also be caused by retained food particles, gum disease, drainage from sinus dripping or systemic, respiratory or gastrointestinal problems. Proper brushing including brushing the tongue, cheeks, and the roof of the mouth will remove bacteria and food particles. Flossing removes accumulated bacteria, plaque and food that may be trapped between teeth. Mouth rinses are effective in temporary relief of bad breath. Consult your dentist and/or physician if the condition persists.